Trading Blog
Why Trading Reversal is Difficult
   Trading reversal is like catching a falling knife, One must know when is the turning point of a trend. Many peoples like to trade Reversal, because of the great Risk to Reward ratio. But it is very difficult to timing the "turning point" and enter just when the trend is reversing.
  There are two things to think about when catching a Bottoms or Tops: Is it a Reversal ? or is it a Retracement ? as We know, Reversal and Retracement are two very different things, in a Retracement price movement is only slowed down before it continue, but in Reversal the price will keep moving in the opposite direction until it reach the beginning of the trend.
  In a Reversal price will not directly moves to the opposite direction in one go, but instead it will moves in stages, step by step until it reach the beginning of the Trend movement. Trading Reversal is considered the Most difficult trade to make because: 1. It is difficult to find the entry, 2. It is difficult to hold the trade.
   It is said finding entry for the reversal is difficult, but Holding the trade after is also proven to be quite a challenge. In a Reversal all previous Support zone will become a Resistance Zone and all the Resistance Zone will become a Support Zone. So, for Reversal to be a successfull, price must cut pass through all the barrier. It need to break through the previous support (now Resistance) and previous Resistance (now Support).
   Consider the illustration below for a Reversal Trade
    In The Illustration above, the Previous Support is Currently becoming the Resistance Level and a Trader must able to Hold gain when His/Her Trade reach the Resistance. Most of the time a Trader will Cash in His/Her Trade before it reach the maximum profit, why because it is Human Psychology to take the profit and avoid risk.
   In the resistance Zone, the Trader will have the feeling of Uncertainty whether the price will continue to goes up or keep falling down. It is a burden for the Trader Mind to see some of the profit gone because the price will not soar up directly like a rocket, but instead will ripple like water in river and slowly goes up.

 AUD USD Trading Setup 07 - Sept - 2021
   Today, 07 - Sept - 2021.  RBA just announced the monetary decision which is sound more dovish than anticipated, On Today policies decision the RBA will extend the Bond Purchase  decision at $4 billion a week until at least February 2022.
   So, lets see the chart and what happen after the decision.
Daily Chart
Fractal lines shows limited Upside movement, and Today's price fall below the Channel High range, it is a good possibility that the price will fall to the Upper Channel , and the Upper Line Channel will become a new support.
Daily Chart Summary:
100 SMA : Bearish
55 EMA : Bullish
ROC Indicator : Bullish
Weekly Chart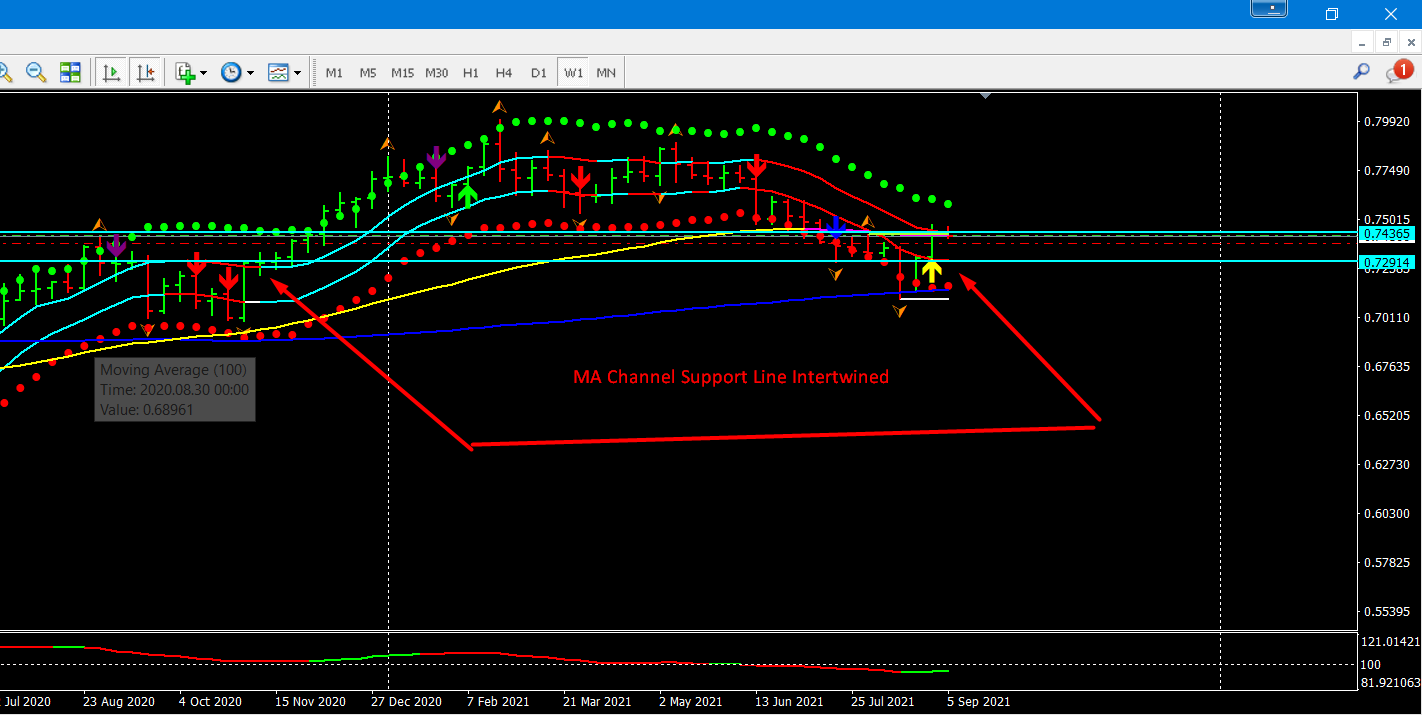 from the weekly chart We can see that the price fall below the Upper Channel, and Upper Line of MA Channel on Oct 2020 Intertwined with the current Lower Channel Line.
  Using the Weekly chart, there is a good possibility that the price will fall and touch the lower Channel Line.
Trading Position : Bearish
Target 1: Daily Upper Channel.
Target 2: Weekly Lower Channel.
Bitcoin Trading Setup 29-08-2021
Bitcoin price has start to recovered from this year low of around 29k, in the weekly chart using Sywa Trading Channel setup; Bitcoin price is breaking the weekly Upper channel Moving Averages.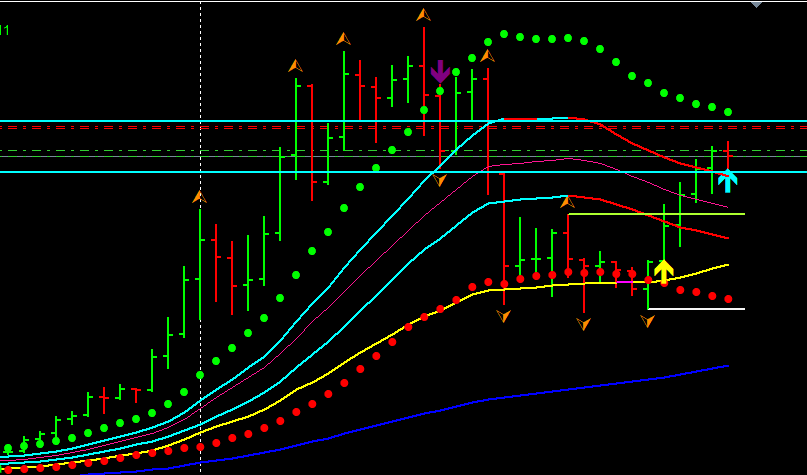 Psychological Price level is at 50k, if price push through and hold 50k level there is a good chance it will break to 52k.
In summary :
Trading Position : Buy
Trading Target : 52,900
EUR NZD pair has been ranging for several month from March 2021, in the weekly chart above we can see currently the price is at the bottom of the range, and if We trade according to this weekly chart setup, than there is high probability the price will go Up soon.
Trading Position : BullishTrading
Target: 1.69893
Current week is full with Central Bank monetary decision :
- RBA interest rate on Tuesday, 07 - Sept - 2021
- BoC Interest Rate decision on Wednesday, 08 - Sept - 2021
- ECB Interest Rate on Thursday, 09 - Sept - 2021
Because AUD and NZD are positive correlated currency, the affect after RBA Interest Rate decision not only affecting Australian Dollar but will also affect NZD.
   The most basic skills for every trader is to able to Draw Support and Resistance Correctly, it is so basic that it should be the first skill to master before one even learn other Technical Analysis skill.
   So What is a Support and Resistance lines ?
    Support is a Price level or a zone of a certain asset's or futures that prevent a price to fall even further. Support reflecting Market psychology where Bear power exhausted and Bulls are coming in, Because the price is quite low, more and more people are more eager to buy rather than sell which in return bounce the price to goes up. 
    Resistance in the other hand is a price level or a zone of a certain asset's or futures that Resist the price to goes even higher because this is the price level where most people will be more eager sell their position either for profit taking or for "Sell the High".
    Support and Resistance is not a permanent things, Support and Resistance line can and will be break over time if there are enough catalyst in the Market. 
 There are two types of Support and Resistance : Static and Dynamic. 
A Static Support and Resistance are solely based on the price itself, drawing a static support and resistance lines is actually quite straight forward, we begin to find a price level in the past where when a price touches that level it bounce and hold that level.
A Dynamic Support and Resistance are provided by Indicator, the most simple example is by using Moving Average Indicator as Support and Resistance level.